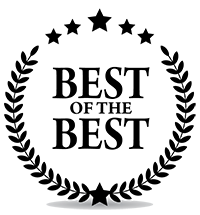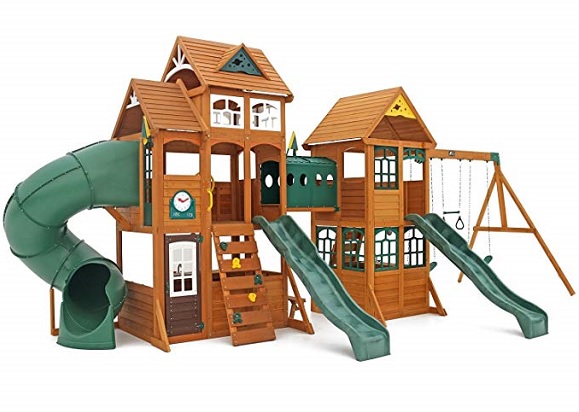 This in an epic sized, multi-level, triple slide, wooden playset that will be the envy of every child in your neighborhood. If you've got a large backyard and want an amazing adventure-zone for you kids, this is the playset to go with.
Being so large, it also requires quite a bit of space to safely use. It's recommended that you have at least a 37' by 26' area to build this set on.
This play set is made with premium components and child-safe pre-stained Cedar Lumber. It does come with a hefty price-tag, but this is a quality set for the adventurous child in your life.
Backyard Discovery Skyfort II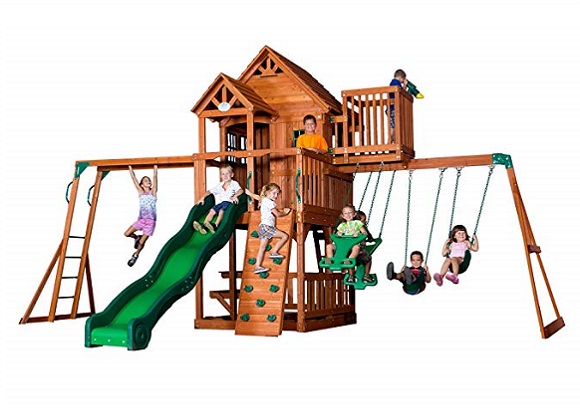 If you've got a climber in your life, they will the rock wall climb, monkeybars, and third level perch with telescope to spend all day on! With an added bonus of two swings AND a 2 person swing glider, the Skyfort II tops it all with a 4 person picnic table on the first floor for lunch time.
The slide could be of better quality, but the rest of the fort is designed to last.
This is a great playset that wont break the bank while still providing a great time for any child to be more active and play outdoors. It will be quite a handful to put together, so be sure to have a second or third person with you, and organize all the pieces before you start assembling.
Swing-N-Slide Cedar Brook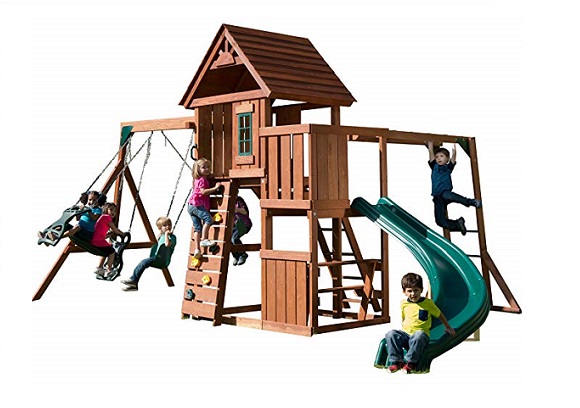 A high quality playset, the Swing-N-Slide Cedar Brook playset is made with premium parts that meet and exceed ASTM standards. The company takes great care to ensure all their sets are tested and safe for use.
Screw packages are not labeled and so assembling can be a little time consuming, and the seal on the wood isn't the best.
A great bang-for-your-buck playset with multiple swings, a slide, and monkey bars. A great option for those with some room in the backyard for a larger fort-styled playset.
Backyard Discovery Tanglewood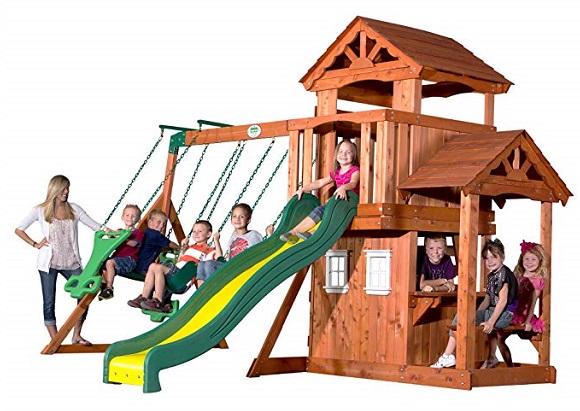 A great medium sized playset with heavy duty cedar lumber build. With 3 swings, a slide, and fort, the Tanglewood will be a happy addition to any child's life.
Although made of great quality materials, we would have liked to see more climbing areas on the fort for the daredevil's at heart.
A fantastic find for anyone with a decent sized backyard, the Backyard Discovery Tanglewood playset will be perfect to keep the imagination of those young at heart.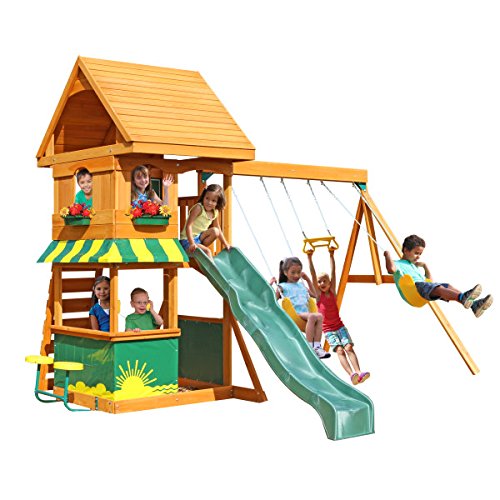 The perfect companion for a smaller backyard, the Big Backyard Magnolia will be a perfect fit for your kids to have some outdoor fun. Included are two sings and a hand swing, and a chalk wall tarp to play games like Tic-Tac-Toe.
Not the sturdiest of structures, the lumber could have been cut slightly thicker in some areas.
A great addition to any backyard, this fort style, two-story playset will add something physically active for your kids to do in their day. Make sure to reseal the wood yearly and do a onceover check for splinters before letting your kids run wild.
What To Look For When Buying a Wooden Playset
Safety and Recalls
These are your children, and safety should be the number 1 priority. Check for any recalls or warnings with playsets to ensure there are no dangers, such as choking hazards, or faulty parts before purchasing a playset. The ASTM is there to ensure the safety of many of these playsets so do check through their websites to verify the set that you are going to purchase is up to safety standards.
Your Child's Needs
Another thing to be sure and look out for is what your child prefers. There's no point in purchasing a 3 story fort if, for example, your child is afraid of heights. Does your kids like to climb? Do they prefer to swing? Are slides their go to when it comes to fun? Do they want a perch to look down from? Being able to figure these questions out will greatly help in picking the perfect playset that will keep their attention for years!
Durability
Make sure that what you are buying will last. If a playset has not been properly sealed, you should seal the wood and let it cure before letting your kids play on it. If you are sealing your own wood, be sure to use non-toxic sealants. Also, ensure that the playset in questions uses thick and durable wood and parts. The hardware and chains for swings should be heavy duty and coated with rust protection. Be sure to look over the playset and make sure no screws or splinters are left poking out from anywhere.