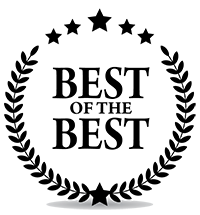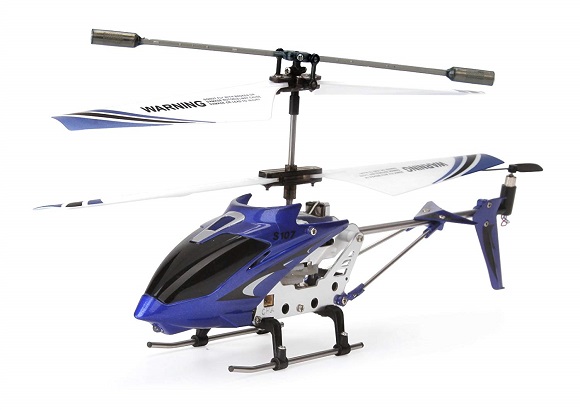 Syma is a well known brand in the ready-to-fly mini RC helicopter market. They are typically the go to brand because of their easy to fly design and durable build quality. The S107 is one of the most popular models and is a multi-direction capable, with simple flight controls, and comes in at a reasonable price.
Battery life could be longer on these models, and there have been reports of some faulty batteries on arrival.
If you want an easy to fly RC Helicopter that can take a few crashes and keep on flying, the Syma S107 is the one to buy.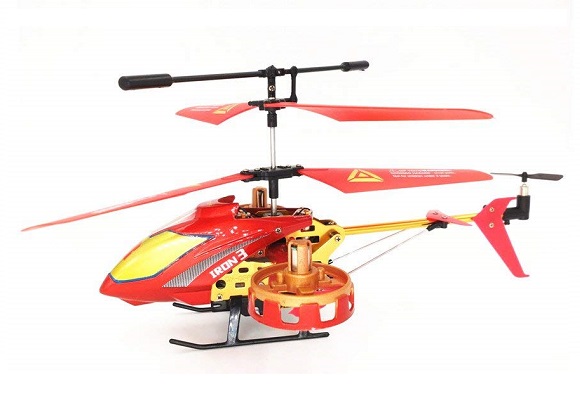 A new RC Heli model, the ExCoup Omni has upgraded flight features, including an omni directional 4-channel infrared remote. With the addition of co-axial auto stabilizing rotors, the ExCoup is capable of much more maneuverability once mastered, and come with longer lasting batteries.
It is pricier than your typical Mini RC helicopter and the learning curve is more challenging to master. However, you are getting better quality and functionality for those downsides.
If you want to be able to fly in any direction, want a little more challenge in your flights, and need something with great build quality and durability, then pick up the ExCoup RC Helicopter. You won't be disappointed.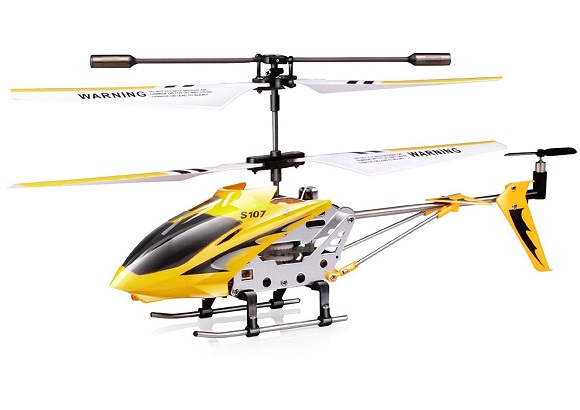 Similar in style to the Syma S107, the CheerWing is the most affordable of the RC Helicopters on this list and will you the best bang for your buck. It's agile and pretty durable and is quite easy to fly.
It has a fairly short battery life and has been known to have charger malfunctions down the line.
A very affordable RC helicopter with great features and durable build. Batteries have been known to fail over a few months, but replacements are easily available. A great option if you want to have some fun flying around the house on the cheap.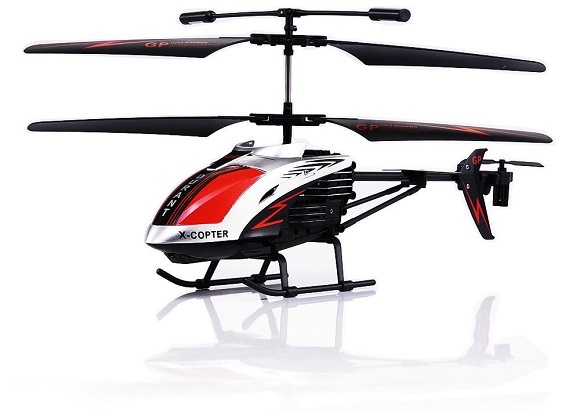 A great RC Helicopter for beginners due to its easy flight controls. The included remote is able to offer 3 frequencies so 3 different GPToys G610's can be flown in close proximity together if your friends have one too.
It's not as durable as some of the other models on our list and has had reports of not working after crashes. The battery doesn't hold charge too long.
A very sleek and nimble design with easy to use controls. Although not as durable the GPToys G610 is great for beginners who may want to fly a Remote Control Helicopter occasionally.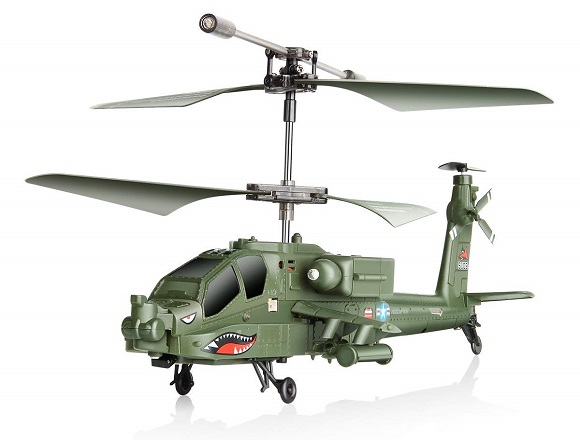 For the military fan in your life, the Syma S109 has similar characteristics as our Best Ranked RC Helicopter, the S107, but comes packed in an Apache replica body. The S109 is great for all ages, is very durable, and easy to fly.
The battery only lasts about 5 minutes and they have been known to fail after a couple months use. Wouldn't be a bad idea to pick up a couple spare batteries.
A great looking RC Helicopter that looks more like a model than a toy, the Syma S109 delivers great durability and quality as usual. It's only downside is the short flight times and the issue with batteries not lasting after a few months. With a couple spare batteries thrown in the cart as well, this RC Helicopter is a great choice for anyone looking to have some fun indoors or out.
What To Look For When Buying an RC Helicopter
Ease of Use
Mini RC Helicopters can be fidgety and difficult to fly (almost like a round of flappy-bird at times…) so unless you want to go flying into your ceiling every few minutes, look for an RC Helicopter that has an easy to use remote control or flight system. It used to cost a good amount to get better flight controls, but nowadays you can find easy to use helicopters in the $20-$30 range. There are a few models out there that add extra flight maneuverability to their builds but those usually come at the trade-off of having slightly steeper learning curves. If you're just trying to learn, maybe go for one of the basic models, but if you're looking to challenge yourself or fly through home-made obstacle courses, it would best serve you to pick up one of the more advanced models.
Durability
Yes, you are going to crash, a lot. It's pretty much guaranteed your going to have your fair share of rough landings, so invest in an RC helicopter that can take a few spills and keep on chugging along. We tried to pick out the best of the best for our top 5 RC helicopter list so most of the models listed were made to take a beating. It doesn't hurt to pick up a couple spare parts as well if your model of choice doesn't come with them (batteries and propellers especially).
Battery Life
How long can it fly per charge? How long does it take to recharge? Most of these Remote Control Helicopters can stay airborne 5-10 minutes at a time (one of the downsides of them being so small and needing to be so light). Luckily most model's batteries charge in 30 minutes, but if that's too much of a wait time for you, pick up a few extra battery packs to elongate your flight times. Majority of these models have spare batteries for sale as well. Another thing to note is that due to the high discharge power these batteries put out, they also tend to not last through as many charge cycles as your typical batteries, and as you can see from our research, it's a common occurrence that batteries fail over time and need to be replaced.