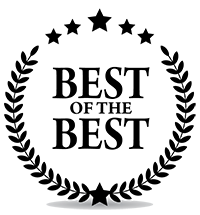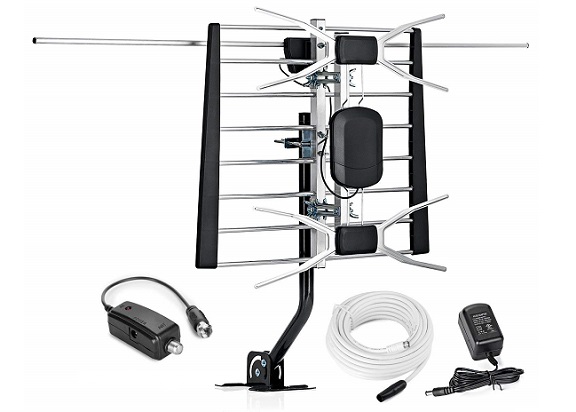 Compact design and great signal pickup at up to 60 miles, the GE Pro Attic Antenna is a fantastic long range attic mount digital antenna for its price. Receives broad-spectrum uncompressed full hd signals and is even 4K ready for future digital signal upgrades.
This is an attic mount, indoor use only antenna. The tubing can also be a little fragile so take care when putting it together to not bend the pieces.
The GE Pro Attic Antenna is able to pick up amazing quality signals at up to 60 miles at such an affordable price that it had to make the second spot on our list.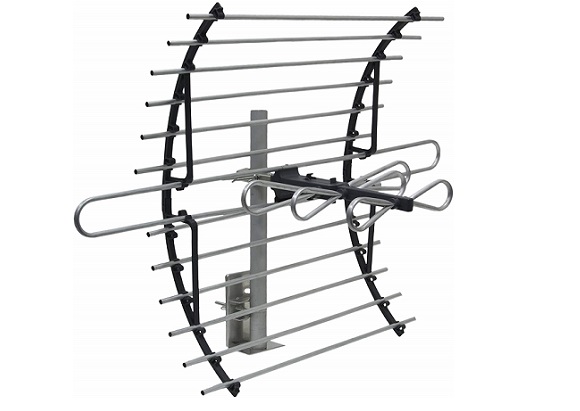 Affordable and Powerful. The ViewTV amplified mounted antenna is capable of receiving full HDTV signals, VHF frequencies of 170-230MHz and UHF frequencies of 470-860MHz, at up to a 150 mile range.
Does require mounting and although it can be mounted indoors, this may be an antenna you'd prefer installed in your attic or outdoors.
The best range you will get for this low of a price. If you are looking to get a better signal from channels in your area, this is the antenna for you.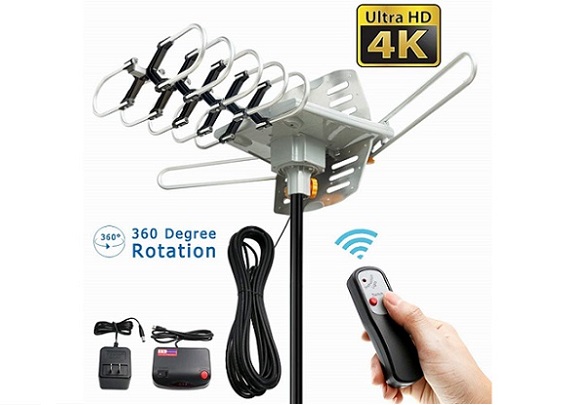 The Vansky Outdoor Amplified Antenna is quite the capable signal catcher with a fully motorized 360 degree rotating head and a range of 150 miles. It's high definition capable and comes with a remote to change its aim.
it's a bit large and definitely needs to be installed outdoors on a high point to take advantage of its 360 degree rotation capabilities. The motor capability is a little gimmicky as you can only control it indoors from the amplifier box, so you can't actually see where the antenna is pointing.
A great quality antenna for those looking for some extended range. The signal strength and quality is not quite up to par as the GE and ViewTV Antennas, but it does add the extra benefit of picking up signals from different sources around you with it's rotation capability.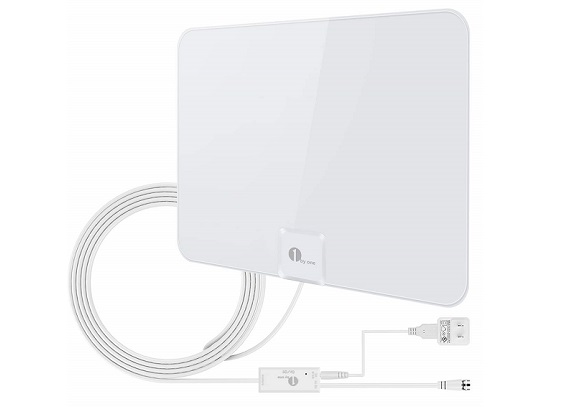 This is a powerful little indoor digital TV antenna that has a sleek white panel design that is capable of capturing signals up to a 50 mile range. Slim, lightweight, and low power consumption means you can hide it pretty much anywhere and still pick up a signal.
Although powerful, the signal quality does diminish when nearing the 50 mile range. This is an indoor compact antenna so be aware of its limitation before buying.
A great HDTV antenna for those who have a lot of strong signals in their area and who want a compact and sleek design.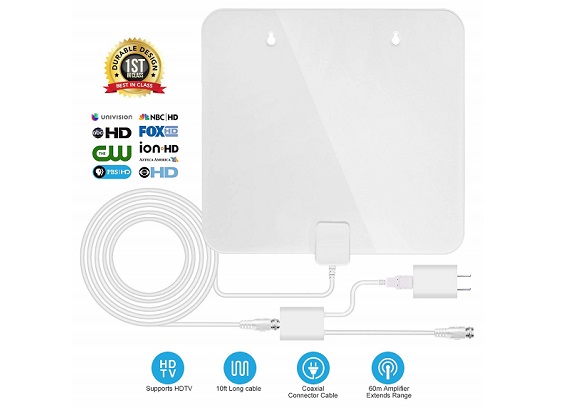 Just as with the 1byone antenna, the UraLeyeon is a sleek and capable indoor antenna. It share many of the 1byone's features along with its 50 mile range signal capture capabilities.
Although they state that the antenna is able to pick up signals up to 60 miles, there is a great drop off in quality past 50 miles even with the amplifier.
It doesn't pick up as a wide a frequency range as the others, but it is quite the capable and powerful little indoor antenna that's priced right.
What To Look For When Buying a TV Antenna
Channels Broadcasted in Your Area
This is more of a PSA for those of you who are unfamiliar with Free OTA TV broadcasting - regardless of how powerful your antenna is, if there are no channels, or limited channels being broadcasted in your area, that is all you will be able to pick up. Please check the maps on the FCC.gov website to make sure you have the channels you want by you before cutting your cable and switching over to over-the-air Digital TV.
Range
A key factor for most people to pick up as many local channels as possible is range. Be sure you pick up a DTV antenna that meets your range needs to be able to get the channels from your local broadcasting towers. Note that these signals work best when they are unobstructed, you might have trouble picking up signals if you are nestled between the hills and don't have line of site to your nearest broadcast tower.
Indoor vs Outdoor
This is a little more personal preference than anything else. Some people just don't like to see a strange wiry rabbit ear antennas attached to the roof of their house or in their backyard. For those of you who want something more visually pleasing, the flat and stylish indoor variety of DTV antennas may be the perfect fit for you. Just note that these tend to come with the downside of lower range.